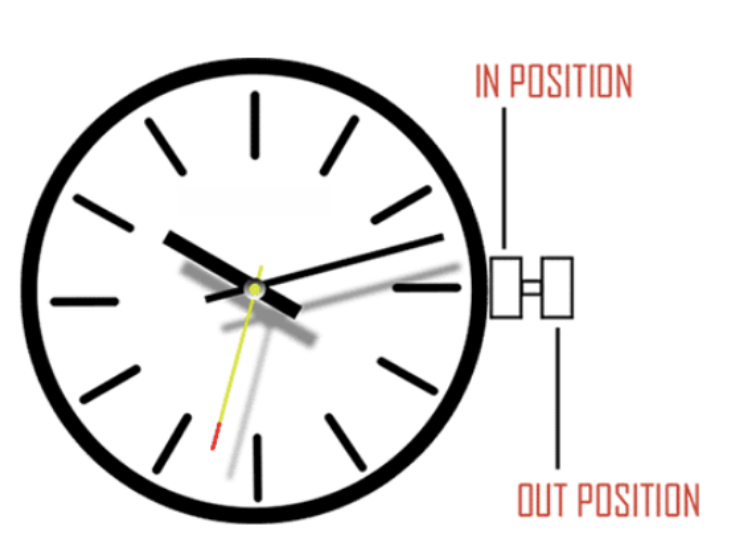 SETTING THE TIME
Step 1: Pull the crown out one click to OUT position.
Step 2: Rotate the crown until the current time is displayed.
Step 2: Push the crown back IN to commence timekeeping.
Mechanical automatic watches harness the kinetic energy contained within the natural movement of your arm to generate the force required to operate. The watch will commence operation after a sufficient volume of initial power has been generated by handling / wearing, or by manually winding the crown. We suggest you wind the watch (achieved by rotating the crown clockwise while it is in the innermost position) 15-20 times prior to wearing it. Supplemental winding through wear or manual winding will ensure sustained functionality, and increase the duration in which the watch will continue to operate when unworn.
Water Resistance Guidelines
Water resistance ratings are provided as a general guideline of usage, and offer no guarantee of maximum water resistance. Manipulation of the crown and / or buttons while the watch is in contact with water will negate the water resistance rating as water penetration may occur.
3 ATM - splash resistant only. Normal wear and use can include kitchen activities, a day on the beach, the gym, etc. However, full submergence in water is not recommended both for the integrity of the movement and the wood itself.
With proper care, your wood watch can be worn for many years to come.
The biggest enemy of wood is sudden changes in temperature and humidity.
As wood is a natural product, it can swell at very high temperatures and shrink at particularly cold ones. Same goes with humidity. As swelling and shrinking increase the possibility of cracking the wood, be sure that your watch is well protected when not used.
If your watch is exposed to salt water or chemicals (i.e.: sunscreen, solvents, fragrances, soaps), carefully rinse it with fresh water to avoid damage to the wood. Additionally, we recommend Tung oil or Lemon oil to properly condition and lust the wood. Using a soft cloth, pour 1 teaspoon of your chosen oil on the cloth and then pass it over the surface of the wood.